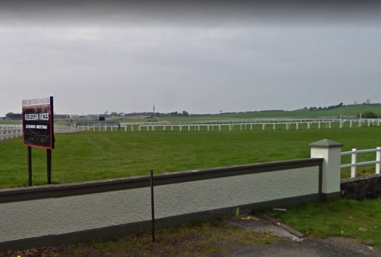 Located in the heartland of Ireland, this county Westmeath track has seen racing held at the site since 1901 and provides a lovely countryside backdrop, which is perfect for summer racing. It is one of four exclusive national hunt tracks in the country and the fact that the meetings are mostly held in the evenings means it is one of the most well attended tracks in the entire country.
The town of Kilbeggan itself is a big tourist attraction in Westmeath due to the presence of a lot of Irish historical artefacts and sites. The Kilbeggan races offer the usual excitement from the races with a more relaxed approach suitable for the whole family.
Jump To: Tickets | Course | Meetings | Dining & Hospitality
Ticket Prices
Ticket prices for the course are as follows: Adults €13, OAP / Student €10, and Children under 16 are free. There is also a special family deal of 2 Adults and 2 kids for €20.
The Course
A very sharp right handed track that is rather short at just over 1m in length, Kilbeggan is a difficult track to ride. Jockeys here are on a constant turn and face an especially sharp bend just after the second to last fence. There is an uphill finish of 300 yards, which places a little emphasis on stamina but this is very much a track for speedy front running types as opposed to staying horses. There are six fences to a circuit of the chase course and it's common to see jockeys take these jumps aggressively, with real pace, meaning a smart jumper is likely to do well here.
While the chase course definitely offers a stern test for horse and jockey, the hurdles course, which features on the inside is even more troublesome. Slightly shorter in circumference, the very tight nature of the course means it has produced plenty of course specialists down the years. Successful hurdlers generally ride prominently and are often more quirky types that need to be kept interested during races. On this course, there are five flights to a circuit with the last coming very close to the winning post, meaning it is vital to be well-placed heading into this.
COURSE SPECIALISTS
We mentioned that course specialists are a fairly common sight here, particularly on the hurdles course, and there are several examples to support the point. Barrack Buster won all four starts over the small obstacles here, as well as grabbing herself a victory over the fences. Also boasting five victories here is Keeponthesunnyside although his success came exclusively over the fences. Back to the hurdles and you've got horses like Benny The Bishop who won or placed in six of 10 efforts, a very fine strike rate.
It's only fair to call Willie Mullins a specialist of the course too these days as between 2013/14 and the 2018/19 season, he conjured up an incredible win rate of 38% from 85 runners. While very much the man to watch out for whenever sending runners to Kilbeggan, the bookies are all too aware of his ability. Over the five year period examined, Mullins posted a small level stakes loss of -9.35, as so many of his winners set off at a short price.
Major Meetings at Kilbeggan
Kilbeggan holds 8 meetings between April and September, the highlight of which being the Midlands National meeting held in July. Each meeting is very well attended generating a fantastic country atmosphere that it is renowned throughout Ireland.
Dining and Hospitality
Kilbeggan offers a couple of different hospitality suites, which we have outlined below.
The Balcony Suite: The glass fronted Balcony Suite on the first floor of the new Pavilion has first class hospitality facilities to accommodate up to 200 guests. It can also be subdivided for smaller groups of 30 or more. The Balcony Suite is well positioned along the racetrack, offering unbeatable views for all guests.
The Tented Village: For a first class racing experience, consider the Tented Village, which provides great views of the track with various hospitality options available. Suits anywhere from just 100 guests up to 2,000 guests.
Aside from these areas which are open to all patrons there are a number of on course carts and vans, which provide a wide range of hot food, snacks, and drinks.