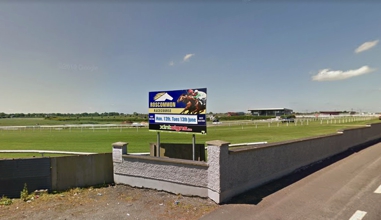 Roscommon Racecourse is located in the heart of middle Ireland and has played host to racing since 1885. It is a dual purpose course with fixtures taking place between May and September.
The racetrack is popular as it offers both National Hunt Races, as well as Flat. And, with such a close proximity to the town centre, it is easily reached by many patrons who tend to finish their day at the races at the Abbey Hotel in town for the famous 'Race Dances'.
In terms of distances from nearby town, Roscommon is located in the western area of Ireland, not terribly far from Galway (approximately 77km) and easily reached from Dublin, as well (145 km away). With trains coming in from Dublin daily, the racetrack is easy to get to for many patrons, as it's just a short taxi ride from the station. An hour away from the station, you will find the nearest airport – Knock West International.
Jump To: Tickets | Course | Meetings | Dining & Hospitality

Ticket Prices
General Admission prices for the course are €13 for adults, €8 for old aged pensioners and students, and free for children under the age of 16.
The Course
Roscommon is a flat, right handed rectangular track of 1m 2f, which is sharp in nature and favours speedy horses that prefer to be ridden upfront. The only part of the course that is not flat is the three furlong home straight, as there are slight undulations throughout.
The jumps course contains just five fences – two down the back straight and three in the home straight, before a run in of about 200 yards after the last obstacle. With the fences both infrequent and easy in nature, Roscommon offers very little in the way of a jumping test. Tackling the bends is the real big ask at the course, particularly the rather notorious second to last one situated at the end of the back straight.
SIGNS OF DRAW BIAS
There's no sprint track at Roscommon but for seven furlong races there is a decent indication that an outside draw is preferable in races with 10 or more runners. A look at 21 handicaps – admittedly a relatively low sample size – over a four year period reveals that horses drawn high up won 13 of them.
Although this is a fairly small sample, the findings are still something of significance. Data also suggests that a high to mid draw is preferable during 1m 2f contest but the case for this is less convincing so there is no real need to factor it into your betting calculations.
Major Meetings at Roscommon
Roscommon has 9 meetings between May and September each year with the highlight over jumps being the Grade 3 Kilbegnet Novice Chase in September while it plays host to the Listed Lenebane Stakes on the flat in mid July.
Dining & Hospitality
Roscommon has spent the last couple of years improving its facilities and it now has an impressive set available to all patrons.
In addition to the downstairs Monteledo Bar, which includes Tote betting facilities and provides finger food on race days, as well as a number of big screens displaying live sporting events, there is now a new upstairs bar located at the top of the stand that has beautiful panoramic views of both the track and surrounding area. Full bar and snack facilities are available and it can be reserved for private functions of up to 150 people.
Located beside the Small Stand, the Self Service Restaurant offers a full Buffet menu, as well as salads, snacks, tea and coffee, and soft drinks for all patrons.