These days we're a little spoilt for choice when it comes to online bookies, and there are plenty to choose from. Below we've selected some of our favourites that we're happy to recommend to you. Some are a little better than others, but the answer to the old 'best betting site' quandry will often depend on what it is you're looking for. So read our descriptions and pick the one that suits you the best.
Boylesports
BoyleSports might not be the first bookmaker when you think of online gambling, but they have been quietly chipping away at the heels of those 'out in front'. They've not had the exposure that some of the bigger players have had, but we can assure you, they are a tidy little outfit. There's not a lot that the company don't offer and they are one that's worked hard to get to where they are.
Boylesport has worked hard to improve their live betting section in recent years and they've really upped the number of sports and matches that they offer in-play betting for. They probably aren't up there with the likes of Bet365 just yet, but they aren't far behind and will give anyone a run for their money, when it comes to depth at least.
One thing that has gripped us a little whilst carrying out this review is the design. It's very dated compared to what a lot of bookmakers offer and the size of font/text is very small. The homepage includes an awful lot going on and, for us at least, just doesn't work all that well. Design is very much each to their own though, and what works for one, might not for another.
Overall, we have to say that the site lacks a little depth. They've got the basics right and if you are just looking to head on to the site and make a bet then they will work quite well. But, if you are looking for a bookmaker that can above and beyond your expectations, BoyleSports might not be the answer. We aren't ripping the site apart, far from it, but when you compare it to their peers, and that's what you have to do in the industry, we cant help but feel that they do fall a little short in terms of additional features.
Betfair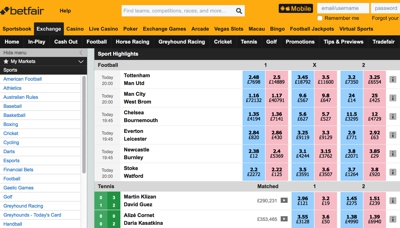 When Betfair first come into the betting industry in 1999, few could have predicted how much they were going to change the face of betting. Back then, the company were solely a betting exchange, which means that players would bet peer-to-peer. The 'bookmaker' didn't exist and it was essentially somewhere that you could both back and lay your bets.
The company have come a long way since then though and whilst they are still the biggest betting exchange in the world, and by some distance may we add, they are now one of the biggest bookmakers globally. They offer a range of products that very few bookmakers do.
As you already know by now, Betfair started as a betting exchange and whilst the exchange is still very much a thriving section of their sportsbook, it's the original sportsbook format that has come into fruition in recent years, which has added another layer to the bookmaker. It means that you can really have the best of both worlds for betting and they allow you to have just one wallet to use both equally as quick.
It has to be said that Betfair are probably one of the best value bookmakers in the industry at the minute. Their exchange has always been insane value, but don't forget to take off their 5% commission first. The traditional sportsbook has really started to work its way up there as one of the best and they are making a solid reputation just via this platform alone.
Betfair, unlike many sites that we have reviewed, have always gone above and beyond in terms of the features that they offer. They were one of the first to offer live streaming to their punters and they also include a ton of stats related information, as well. The inclusion of their betting blog is easily one of the best in the business, with insights from former and even current professionals from each discipline.
Betway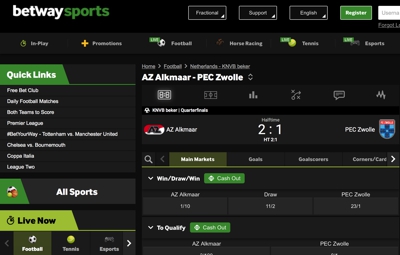 You may be forgiven if you've never heard of Betway, but listen up, as they are quickly turning into one of the most exciting bookmakers for a long time. They've actually been about since 2006, but it's only been the last couple of years that they've really started makings strides in the industry.
The site went through a massive overhaul not more than a couple of years ago and their affiliation with English Premier League side, West Ham United, as again singled their intentions. They also provide sponsorship for the Darts Premier League, which is one of the biggest events on the darting calendar that's shown over 16 action packed weeks on Sky Sports.
The first thing that we really want to highlight about Betway is the design of the site. It really does look awesome, especially the black and green colour coding. It allows you to access the sports and markets really easily via the side bar and the everything just seems to work (most vague review ever, but true!).
Whilst stats sections are no longer something that the minority of bookmakers offer these days, their inclusion is always welcomed for us. Betway offer up one of the more comprehensive ones that we've seen and you can literally click through dozens of sports to find a ton of information on each.
The sites also got it's own live streaming channel, which is a really sweet addition. Again, there are a range of sports to choose from but we have noticed that its not as comprehensive as some. The calibre of games is always something to look out for when it comes to live streaming and, unfortunately, Betway do seem to struggle a little bit. It's hard not to compare them to the likes Bet365 and Betfair, but fair play to them for at least providing an offering, which is much more than the majority of sportsbooks out there!
BetVictor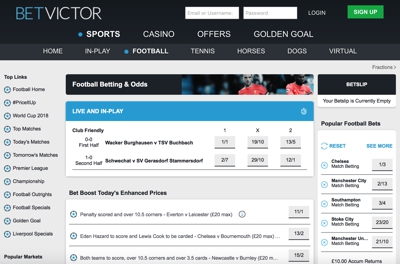 BetVictor is one of the biggest names in the sports betting industry. If ever there was a ranking system for all sportsbook then it's highly likely that BetVictor would be in the top 5 around the world. They've been doing it for so long – formerly under the name Victor Chandler – that there is very little that the site hasn't seen or done. They are often thought of as the benchmark for most bookmakers and, to be honest, have very little in the way of negatives.
One of the main reasons to their success is the continued strive to produce the best-priced odds in the industry. This actually got recognised by an independent odds comparison service who voted them the best-priced bookmaker on the most football games in 2014. One of the more recent additions to the BetVictor back catalogue is their live streaming channel. The downside being it technically only includes horse racing. Having said that, they do include a large number of races, as it's essentially a stream from Racing UK. You get a massive number of domestic races, as well as a high number of international races from UK, Ireland, South Africa, and the UAE.
Their mobile betting app is also a really nice feature that includes all the sports and markets that you'd get from their online version. The app underwent a hefty makeover not so long since and we think it's now one of the best looking in the industry. It performs really well, even on limited connection, which is essential for these types of products.
One thing we would say is that BetVictor probably struggles a little when it comes to market depth. Don't get us wrong, they cover football and horse racing as well as anyone, if not better, but you can't help but feel they neglect other sports throughout the site somewhat. It's a small gripe, to be honest, but it's something that the likes of Betfair and bet365 don't have.
Coral
The Coral bookmaker has been one of the biggest mover and shaker in the betting industry over the last decade. They've always had a loyal following, especially in Ireland, but they are now highly regarded a one of the most reliable bookmakers in the world.
They've managed to create a reputation that's allowed them to progress to a level that most bookmakers can only dream of. They cover pretty much all the bases when it comes to online betting and we will be highlighting what we think are the main reasons behind their success in this review.
One of the latest additions to the Coral bookmaker is their cash out feature. It essentially allows you to close out a bet based on the current odds and lock in the result before that market has closed. The price that you get could be lower than if you simply 'let it ride' but it means you can settle the bet early if you wanted.
Live streaming has been something that Coral have sanctioned for a while now and their streaming section is one that continues to grow. The sports include football, tennis, snooker, rugby and basketball, which can all be streamed from your PC. All you need is a positive balance and you will able to access all of their streaming features. Their streaming service can also be used to watch live horse racing from around the world. This works a little differently from their main streaming service in that you need to have wagered a bet of at least €1 on a specific race to access the stream, but you can access this service from your mobile, which is something that you can't do from the other service.
Finally, we just want to give a quick mention about Coral's mobile app. It's seen a re-design of late and is now one of the best in the business. It includes all the features of the sportsbook and allows you to access thousands of markets from anywhere in the world, pretty much. The only let down is the lack of live streaming for sports outside of horse racing, but apart from that, it's pretty much flawless!
Ladbrokes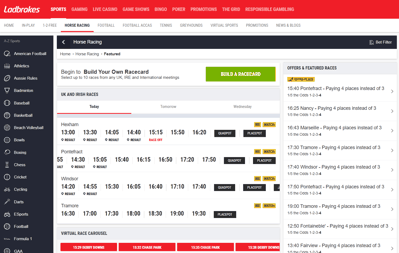 Ladbrokes are one of those companies that you instantly associate with sports betting. They are one of the oldest in the business and have gone on to form a stellar reputation for themselves. Like a lot of the major players, they started off from pretty humble beginnings in the form of a 'brick and mortar' and whilst they still provide these offerings for their users, its pretty safe to say that the majority of their custom these days comes from online.
The first thing we want to mention about Ladbrokes is their design. The site has recently undergone a re-design and it's so much better than their previous offering. It has much more of a modern feel to it and for anyone who has used the site with the older design, then it's worth checking back to see what's new.
They've also added a live streaming channel to their armoury and whilst this isn't exactly a feature that no other bookmaker offers, they are still in the minority of who do offer it. What we really liked is the fact that they linked this up to their live betting section as well, meaning you can watch the game you are betting whilst having instant access to the live betting markets; ideal if you are an in-play betting fan.
The mobile app has also seen a bit of a facelift in recent months and with it comes a whole new way of betting. The app is available for iOS and Android devices and can be accessed by scanning the QR code on the website (iOS users can actually download this straight from the app store if they wish).
One negative that we have with Ladbrokes is that they rarely have the most enticing pricing when it comes to odds. Compared with the likes of bet365 and Bet Victor, Ladbrokes will tend to be a fraction shorter, meaning less value. It's not a deal breaker by any means, but something that we think you should aware of, especially if you like to shop around for the best prices.