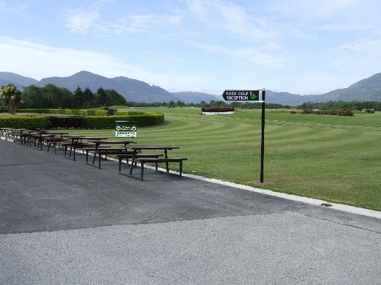 Killarney is tucked away in the south-west corner of County Kerry and the town itself is regarded as one of the foremost tourist destinations in the country due to its abundance of ancient castles, mountainous terrain, and the National Park, which is located just outside the town.
The racecourse itself lives up to this picturesque reputation. Set just a stones throw from Lough Leane, next door to Ross golf club and with the Demesne of Ross Castle at beyond the back straight, it gives some of the most scenic views from a racecourse that you will see anywhere in the world on an Irish summer's day.
Killarney is serviced by trains and buses from all major cities in the country and the local station is just 1/2 mile from the track. The nearest major airport is in Cork, which is an hour and 20 minute drive away.
Jump To: Tickets | Course | Meetings | Dining & Hospitality
Ticket Prices
Ticket prices for the course are as follows: Adults €15, OAP / Students €12, and Children under the age of 14 are free.
The Course
Killarney is a dual purpose, left handed track, which is undulating and sharp in nature. A full circuit of the course is 10 furlongs and it contains a particularly tough bend immediately after the winning post. The course is unique in that there is no home straight as such, meaning essentially you are on a constant bend from 3f out all the way to the winning post.
The jumps course has six unchallenging fences to a circuit so a horse can get away with being a sticky jumper here. That said, things aren't quite as easy as they seem, as three of the six fences come in the 3f run for home on the bend and taking these poorly can effectively put an end to a horse's chances. The ground at the track doesn't hold rain well either and it can get very soft in a short space of time so ensure you check the going shortly before the off rather than two days prior.
NO DRAW BIAS TO REPORT
Like several other Irish racecourses, there's no five furlong action at Killarney, the starting point for much draw bias research. Unusually there are no six or seven furlong races either though, with the minimum distance race on the County Kerry course one mile long.
It's around this distance where the draw, generally, begins to have a reducing impact and here is no real exception. Data from one mile contests show very little differences of success rates between stalls, although there is evidence to say that an extremely wide draw in particularly large fields is a disadvantage.
KEANE & MCDONOGH COURSE SPECIALISTS
One interesting thing we've discovered is how well Colin Keane and Declan McDonogh race here. The pair of flat jockeys have posted a win rate of 15% and 11% in Ireland between Jan 2015 and September 2019 but these figures jump up to 22% and 25% at Killarney.
Clearly these two men are fond of the course and backing them with a €1 stake in every race between 2014 and 2019 would've landed you a rather tidy €121.78 profit. McDonogh's overall level stakes record is +75.56 so clearly he's a man you should keep a very keen eye on whenever he makes the journey here.
Major Meetings at Killarney
Killarney holds 11 meetings each year separated into three festivals in May (3 days), July (4 days), and August (4 days). The majority of the meetings are held in the evening, so it is an ideal way to round off a day of sight seeing.
Dining and Hospitality
The "hospitality ticket" at Killarney includes entry to the racetrack, as well as entry into the track's Panoramic Restaurant. It also includes a racing slip, a viewing platform that offers unbeatable views of the track, private tote betting, access to a bar, a three or four course dinner, entertainment after the races and much more.
The "BBQ Ticket" is €35 and includes admission, a race card, and an on-course BBQ meal during the racing. This is only available Monday through Wednesday evenings in July and every day during the August Festival.
For general admission, there is a good selection of food and drink options throughout the venue.