Racing at Laytown County Meath is one of the most memorable experiences you will find in terms of racecourses. Situated on the local beach, it takes place just once annually and attracts a huge crowd of patrons from all around the world. It is the only racing event you will find that is located on a beach.
Once the tide goes out in the morning, organisers lay out a track for races between 6f and 1m. A temporary tent village of weigh room, jockeys room, bars, and restaurants are erected, and racing gets underway early in the afternoon.
There are regular trains from Dublin and Drogheda to Laytown station, and there is a free shuttle bus from the station to the course, or it is just a 10-minute walk to the beach. Matthews Coaches depart from Dublin, Parnell Street at 1pm sharp to Laytown and they return to Dublin at 5:40pm on the day of racing.
Jump To: Tickets | Course | Meetings | Dining & Hospitality
Ticket Prices
Ticket prices for the course are: Adults €10, OAP / Student €6 and Children under the age of 14 are free.
The Course
A straight course of 1m, Laytown is run on a tidal beach, which tends to ride very firm, so any horse who enjoys fast ground usually goes well here. Previously, races were run with the absolute minimum of equipment but recent investment has seen stalls and rails added into the mix. Prior the in introduction of stalls in 2015, all races here took place via a flag start and this really is a unique venue that racing fans should try to visit.
Previously, races here included lengths of up two-miles and took runners across a bend but an accident that occurred in 1994 inspired changes to how the course was set up and run, limiting it to more experienced participants and also greatly altering its length and shape. The changes have made it safer for everyone involved without reducing the special feel of this highly unusual racecourse.
BOLERO DANCE THE SAND KING
Across 91 Rules Races, Bolero Dancer secured eight victories, with half of them coming on the sandy beach at Laytown. A horse with a true knack for the unique conditions, no horse has yet been able to top his record here. After missing out by a neck's length on his course debut, the bay gelding won four of his next seven efforts, ending with a level stakes profit of 18.75. Boasting a similar strike rate is the now disgraced Eddie Ahern. Before his 10-year ban on corruption charges, the former Irish Champion Apprentice enjoyed eight wins from just 18 attempts.
Major Meetings at Laytown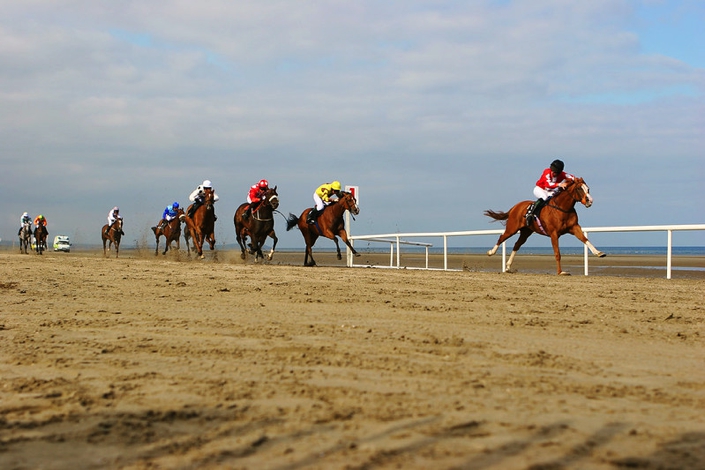 Laytown Racecourse Track (
Paul Walsh
/ Flickr.com)
Laytown has only one meeting every year on the 13th of September.
Dining and Hospitality
There are endless amounts of stall, tents and restaurants and bars pitched along the beach and in Laytown itself, which will cater to the culinary needs of anyone attending the races. There are currently no hospitality packages available due to the unique nature and location of the track.