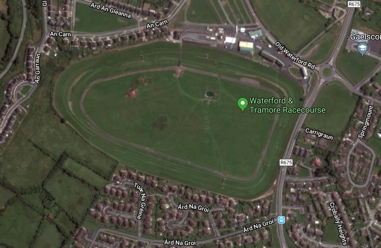 Located 12km west of Waterford city, Waterford & Tramore Racecourse was opened in 1912 and racing has gone from strength to strength in the area since then. Patrons of the track are treated to panoramic views of the Tramore strand and it provides the perfect backdrop to a summer evening race.
Waterford itself is best known outside of Ireland for its crystal and the brand is very supportive of racing at the venue. With its headquarters and main plants based in Waterford city, Tramore attracts many tourists who are attending their first ever Irish race meeting and this makes for a metropolitan crowd and fantastic atmosphere.
The Waterford & Tramore Racecourse is nearest to the Plunkett Station, which is in nearby Waterford. There's then a bus you can get from Waterford to the race track every thirty minutes. If you're travelling by air, Waterford Airport will be your nearest, which is about 10 kilometres from the racecourse.
Jump To: Tickets | Course | Meetings | Dining & Hospitality

Ticket Prices
General Admission prices are Adults €15, OAPs / Students €10, with Children under the age of 16 getting in for Free.
The Course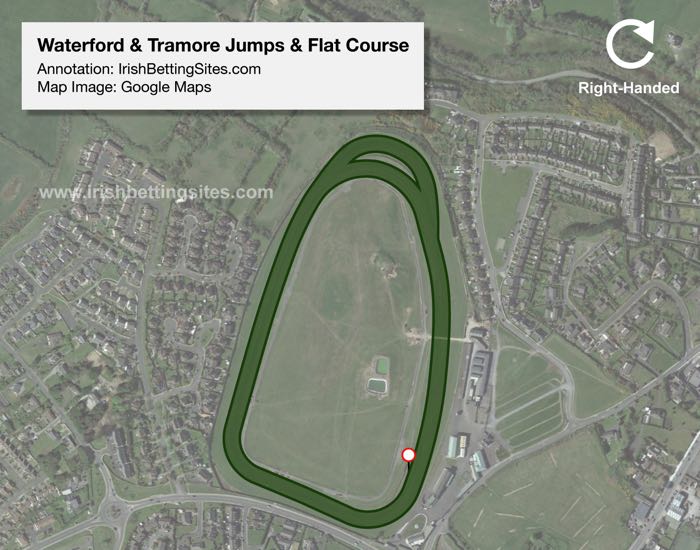 One of the trickiest tracks in Ireland, Tramore is an undulating right handed square that is only just over 7 furlongs in length. You spend about half of this distance climbing from the winning post to halfway down the back straight where you meet a sharp downhill run until the short one furlong home straight which is again on the incline. The turns here are the sharpest in the country and have long caught out many horses and riders alike. There are few courses less suited to big-striding galloping sorts and you definitely want something nimble here.
There are five fences to the chase course with two on the hill down the back, one on both the sides and one in the short home straight followed by a run-in that is just 160 yards. Despite the amount of climbing done on the course, it still tends to favour those ridden to the front or just off the pace due to the sharp nature of the turns.
Tramore also has a flat course but one that only hosts races between 1m4f and 2m in length. Those able to endure trips of this length face a tough time as the course requires plenty of balance to get round it.
They also only operate flag starts at Tramore so that can be another issue for horses who are not used to this procedure. On soft ground, it's possible to win from deep but when the going is better you will rarely see a nag coming from the back of the pack to take a race.
Whether flat or National Hunt, Tramore is definitely one for course specialists but a smaller supply of flat racing means few horses pack a great deal of winning experience here. There's usually more in the way of course form for chasers and hurdlers and a previous strong run is something you should always take great notice of.
COURSE SPECIALIST JOCKEYS
Many horses don't enjoy the rigours of the Tramore test but there are those that thrive on it and absolutely love the sharp turns. The same is true of jockeys with some faring much better than others here.
A blend of tactical astuteness and bravery is required to standout while the ability to tackle the fences is very low down on the list of requirements due to the softness of the fences. It appears that both Davy Russell and Paul Townend have the key attributes in abundant supply with the pair posting a combined 63.03 level stakes profit between May 2015 and October 2019.
It's not as though the pair simply fluked a couple of long-odds wins either. Russell posted a 24% strike rate during the four-and-a-half year period looked at with Paul Townend on an even more impressive 28%. Given that their overall Irish record in this time was 18% and 20% respectively, it would be fair to call both these men specialists of the course and that is real testament to their skills as jockeys.
Major Meetings at Waterford & Tramore
Waterford & Tramore has 11 fixtures each year with the busiest being the August Festival, which runs for over four days each year, along with the New Year's Day meeting featuring the Listed Holden Plant Rentals chase.
Dining and Hospitality
Some of the best deals that are available at Waterford & Tramore year round include:
Deise Deal: For 10+ people and for only €19.95 per person, this deal includes admission to the races, a race card, a €5 drink voucher, and a €5 Tote betting voucher.
Surf & Turf: Again, for 10+ people, but for €25 per person, each person will get their admission to the races, a race card, a €5 drink voucher, as well as their choice of fish & chips or a burger & chips from the Surf & Turf Takeaway.
The above surf and turf takeaway, along with their Bistro menu, is available to all patrons each race day. This is accompanied by a number of different bars and lounges dotted around the track.