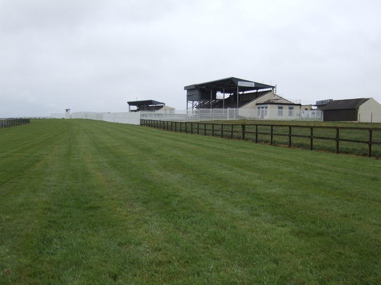 A glorious course set at the foot of the Mourne mountains 11km south of Drogheda on the east coast of Ireland, Bellewstown contains stunning views of the countryside combined with the view of the Irish coastline to the east of the track. Truly the historical home of Irish summer jump racing, the first record of racing at Bellewstown comes from the Dublin Gazette and Weekly Courier in 1726 and that tradition continues onto the present day with both the two-day July and August festivals each year.
Situated 37km north of Dublin and serviced by the nearest train station, Gormanstown, and buses from Drogheda and the surrounding areas to the track itself, it is ideally located for an evenings trip racing from the capital. The course itself runs a free shuttle bus from Drogheda town centre on all race days – although seats are given out on a first come first serve basis.
Jump To: Tickets | Course | Meetings | Dining & Hospitality

Ticket Prices
Bellewstown admission prices are Adults €15, Students and OAPs €8 while children under the age of 16 enter free of charge when accompanied by an adult. These prices apply to all race-days throughout the calendar.
The Course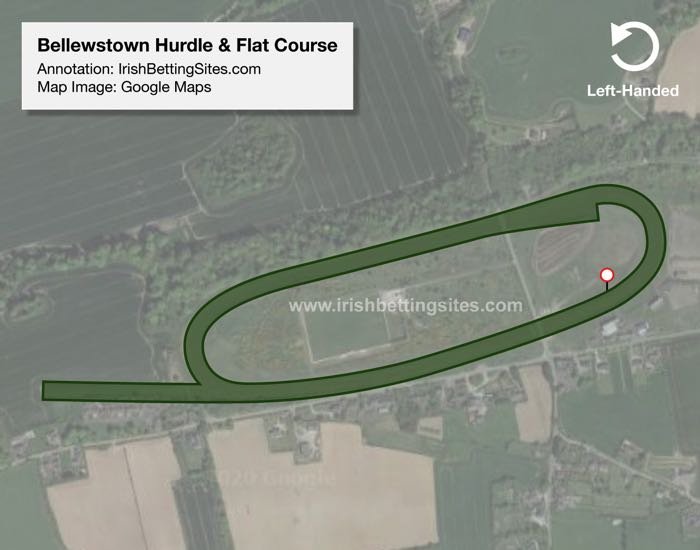 Bellewstown is a tight left handed course of about 1m 2f with a straight of nearly three furlongs to a slightly uphill finish. There is a chute for five furlong sprint races, starting up on the Hill of Crockafotha, giving horses a steep downhill run in the opening stages.
National Hunt racing takes place here but interestingly not in the form of steeplechases. It's a case of hurdling only and during such races there are five jumps featured per circuit, including three down the home straight.
Balance is a key feature tested by a track, which features a slight camber going from right to left, one that can leave a horse unstable if they are unable to cope with its demands. In addition to this, there are tight turns, undulations and road crossings, all of which can knock a horse off their stride. As a result, Bellewstown sees a lot of top trainers keen to pit their horses against the left handed turns with many believing it's an ideal stepping stone in a young horse's education.
Despite hosting racing in the warmer months, the ground staff at Bellewstown do a fantastic job watering the entire course. Even in the driest summers, the turf at the County Meath course very rarely becomes too firm, making it a safe destination for both horse and jockey.
HIGH DRAWS PREFERRED OVER FIVE FURLONGS
The fact that horses are on the turn for a decent chunk of five furlong events has contributed to the belief that a low draw helps when at Bellewstown. While it's of no real disadvantage on firmer ground, overall, the higher draws have enjoyed success rather more often. The dogleg nature of the track allows those starting in the middle of the course to run in more of a straight line. In addition to a high draw, prominent runners should also be sought out at Bellewstown as during sprints, those that set the pace usually end up being very difficult to chase down.
MULL OVER MULLINS
Willie Mullins doesn't send runners to Bellewstown on an overly frequent basis but when he does you are best to give them plenty of consideration. As of September 2019, the County Carlow trainer had a strike rate of 31%, only a little above his hurdles norm these days but enough to turn a decent profit. A series of under-valued entries have seen Mullins's runners reach a level stakes profit of 28.17, something which is most definitely a lot higher than his average.
Major Meetings at Bellewstown
Exclusively known for summer racing in Ireland, Bellewstown plays host to 5 meetings, including its July and August Festivals that attract a large race day crowd year on year. Featuring the Mullacurry Cup Handicap Hurdle, which is one of the most competitive races of its kind in Ireland each year, both these meetings are amongst the best during the summer calendar.
Dining and Hospitality
Bellewstown take corporate bookings from groups of 4 to 400 people on a race day. Their corporate hospitality package includes reserved seats in a marquee, a race slip, a meal, including either BBQ or a buffet, advice from a racing expert, a higher viewing space in which to watch the races, tote facilities, full bar service, as well as post racing entertainment.
They also run the "Bellewstown Belter Package" with advanced booking only. For €20, this package gets you entrance to the racing enclosure, a race card, a free €5 matching bet, and a free pint. This package has limited availability and is open to a party of any size.