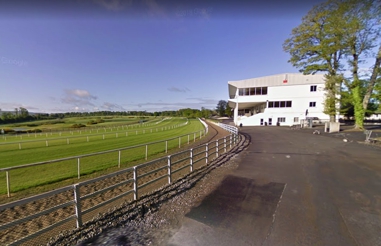 Built in 1914, just 13kms east of Kilkenny in a very scenic location is Gowran Park race course. A dual purpose track, it holds racing over the entire year and has seen some very notable winners of its major jump races in recent years, including Hedgehunter, Djakadam, On His Own, and Numbersixvalverde.
Noted as one of the most beautifully maintained and picturesque courses in the country, it is serviced by trains to Kilkenny from Waterford and Dublin stations. A free shuttle bus is then provided from Kilkenny to the track itself. One of the main features of the track is the highly regarded 18-hole golf course in the middle of the course that is available to play on if any day racing is not taking place.
Jump To: Tickets | Course | Meetings | Dining & Hospitality
Ticket Prices
Ticket prices for the course are as follows: Adults €15, OAP / Student €10 with Children under the age of 18 free of entry.
The Course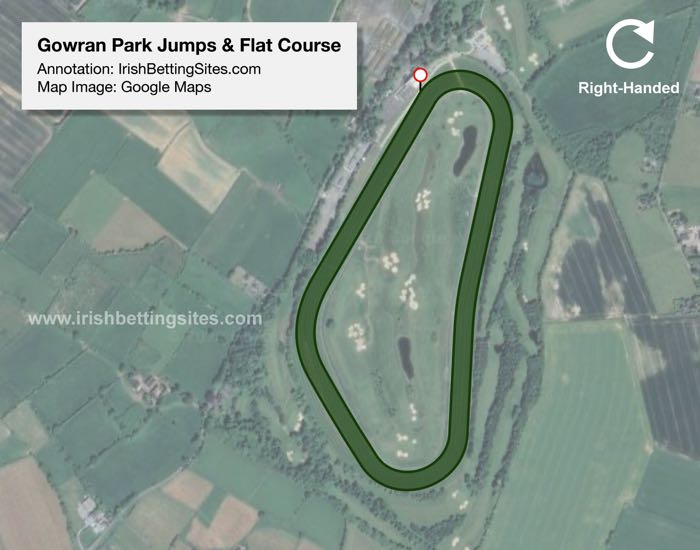 Gowran Park is a more or less oval-shaped, right handed track with a complete circuit being 1m 4f. It is essentially a long galloping track that gets quite testing in soft ground. There are undulations throughout so jockeys generally seek to give their horse a breather when the opportunity arises during downhill sections.
That is something that proves particularly important in the latter stages of races as the final three furlongs are all uphill, making for a stiff finish that can really see horses drop back. On the chase and hurdles course, horses face a run-in of around a furlong after taking on the final jump.
There is not an overly difficult jumping test provided here but the chase course can still throw up problems for some horses. The majority of the fences come in quick succession down the back straight, really testing an animal's stride pattern. One poor jump can have a knock on effect for the rest as there's little time for both jockey and horse to fully recover. The third to last jump, which features just after the home turn, is also one that some runners find tricky.
The flat track is essentially based on speed and it is better to be ridden prominently, particularly in shorter races. Those left to gallop at the front of the pack can be hard to peg back if able to pull ahead even by a small margin. In a prominent position, jockeys can choose to take the optimal, tight line around the bends, which often proves pivotal at a course where there's plenty of gradual turning over long distances.
STRONG DRAW BIAS CLAIM A MYTH
It has long been the belief that an inside draw is of significant benefit in seven furlong races, the minimum distance even held at Gowran Park. The thinking behind this is that because the long sweeping home turn comes up very quickly, any horse stuck out wide is forced to cover a lot more ground. As sound logic as this is, statistics reveal that there's really very little in the way of draw bias over seven furlongs.
Inside runners hold a slight edge but it's not at all unusual to see a horse setting off from a double digit stall getting themselves first to the line. The minor advantage held by low draws in seven furlong races is lost when looking at contests of one mile in length. Over eight furlongs, the draw has no meaningful impact at a course where racing tactics tend to have the biggest say on how things pan out.
Major Meetings at Gowran Park
Gowran hosts 17 meetings throughout the year with the highlight of those being the Thyestes Chase meeting in mid January. Other popular events are the National Hunt Trials days held in February, which see many of the top horses come to book their place at the big festivals both at home and abroad each season.
Dining and Hospitality
Gowran has a number of hospitality packages and, of course, bars and restaurants available to patrons each race day. The hospitality packages include:
Platinum Package: For €55 per person, you can receive your admission, a racing card, a reserved table in the Rooftop Restaurant, a four-course buffet menu, have access to a private bar, tote betting facilities, as well as a free shuttle bus from Kilkenny City Centre.
Gold Package: For €29 per person, you'll get admission to the races, a race card, €10 to spend on food, as well as a €5 to spend at the bar, and access to transport via the city centre.
Silver Hen & Stag Package: For as low as €19 per person, you can spend your hen or stag do at Gowran Park, including your admission, a race card, a free beverage, a reserved area, as well as transport to and from the city centre.
Additionally, Gowran also offers discounts to groups of 10 or more where the Adult and Student / OAP prices are reduced to €12 and €8, respectively.