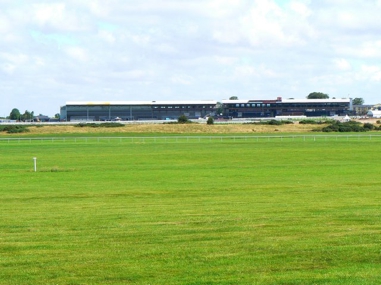 The word Curragh literally translates as "place of the running horse" and there is no more fitting name for the home of Irish flat racing than the Curragh of Kildare. Home of all five Irish Classics, including the Irish Derby, which is the richest race in the Irish calendar. It also hosts the second day of the Longines Irish Champions Weekend.
The first-ever event to take place in this County Kildare racetrack happened to be in 1741. Parliament even declared it an official racing venue in 1868.
The racetrack is easily accessible from places like Dublin, Cork and Limerick given the well connected trains to Kildare. Once you get to Kildare, you'll find a free shuttle bus from the town centre straight to the racecourse. On specific race days, you might also find that you can get a coach directly from Dublin Airport. Do check the official racetrack's website to find more information about this, as it does not operate daily.
Jump To: Tickets | Course | Meetings | Dining & Hospitality
Ticket Prices
Admission fees vary from regular meetings to classic meetings and are stated as follows.
Regular Meetings: Adults €15, OAPs/U25s €8, Children under 16 Free
Classic Meetings: Adults €20, OAPs/U25s €10, Children under 16 Free
The Course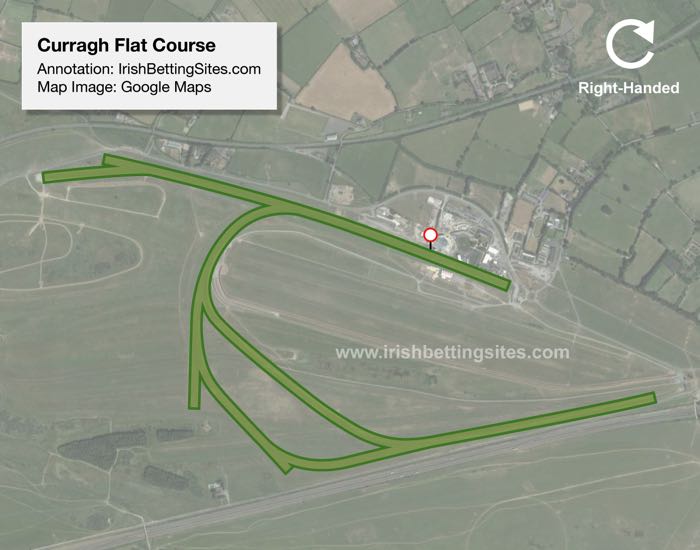 The course at Curragh – one of Ireland's premier tracks – is shaped like a horseshoe and is approximately two miles long, though with various different sections, chutes and inner courses. As there is no complete circuit here the maximum length of races is restricted.
Thankfully, the Curragh doesn't have any crazy bends and there's a good three-furlong straight run, which is only ever so slightly uphill. The Curragh is a very fair track, and you will very rarely see an incident where a horse does not get a chance to win their race if good enough to do so.
The track contains a 7f straight course, as well as a 1m round course, and an inner course of 1m 4f along with a Derby course that extends beyond the 1m 4f start to 1m 6f. One difference between the courses is that while there is not a lot of draw bias on the straight and round/inner course, there is a deceptive amount of turning on the Derby course that you are unable to really perceive from the stands. As such, it's believed a low draw is preferable in races run on that course but only slightly due to the length of races that take place on it.
There's a slight camber from the stand side of the straight track down to the opposite side so it's closer to the far rail that can feature the slightly drier ground. The position of the rail is sometimes moved to the middle of the course though and in such instances all horses race pretty much on an even footing.
NO STRONG DRAW BIAS PRESENT
Curragh is known as a fair place to ride and for good reason too it seems. While people are right to point out that the straight course can be slightly drier on the stands' side, low drawn jockeys will move towards the outside in such cases. By staying clear of the inside rail when appropriate, inside runners face the most minimal disadvantage over five and six furlongs.
A look at the big picture reveals virtually no bias but there are odd instances where the high draws do dominate. Take the 2008 running of the 6f Peter Keatley Curragh Equine Groundcare Handicap for instance. 30 runners took part but the highest placed single digit stall performer finished in 15th place.
As with 5f and 6f races, there's no noticeable draw bias over 7f or 8f either. Starting positions simply do not determine a horse's fate at the Curragh but there is definitely elements of pace and positional bias. These will vary on the type of race and the underfoot conditions so it's up to jockeys to assess the situation accordingly.
Johnny Murtagh did this much better than most, retiring with a 17% win rate on the course. What's perhaps more impressive is that over 1943 rides, he only posted a level stakes loss of -95.38. It may not seem great at first but bear in mind that nine-time Irish flat racing Champion Jockey, Pat Smullen, ended on -791.84 and 13-time champion, Mick Kinane, on -614.88.
Major Meetings at The Curragh
The Curragh is an exclusively flat track that hosts all of the biggest races in the Irish flat calendar. Racing takes place from March until October with a total of 19 meetings. 10 of the 12 Group 1s in the country take place here with the biggest among them, of course, being the Irish Derby, which takes place in late June and is worth over €1.5m in prize money.
Dining and Hospitality
The Curragh might just have the best hospitality service in Irish racing and includes numbers on track dining facilities of both the fast food and sit down meal variety, as well as many stalls, sweet shops, and coffee shops. In terms of packages, there are quite a number available depending on the type of meeting on at the track, including:
The Balcony Bar and Restaurant – 3 course lunch from €60 pp
Champagne Bar Restaurant – 3 course lunch from €60 pp
The Horseshoe Restaurant – Lunch Packages from €45 pp
Garden Picnic Party Package – Package is for 4 people and is €199
Derby Foodscape Party Package – Derby Weekend Package from €45 pp
Private Suite – Price depends on size of party and customisation requirements; See the Curragh website for further details