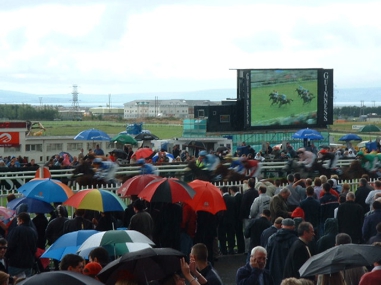 Located in Ballybrit just outside Galway city, this track is one of the most quirky in nature in all of Ireland. It is famed for its week long festival meeting in July / August and it is one of the most iconic venues on the sporting calendar in the country.
Racing first took place here in 1869 and, by now, over 200,000 people flock through the gates during the 12 days of racing at the track each year with 140,000 of those coming during the festival. Galway is famed for its spectacular atmosphere and social aspect to the racing with plenty of post racing entertainment and only a short hop to the city by bus or taxi making it the ideal location for party goers.
The ultra competitive nature of the racing at the course mean that the betting markets are some of the most active anywhere in the world and some of the biggest betting coups in Irish racing have taken place in handicaps at the track.
Jump To: Tickets | Course | Meetings | Dining & Hospitality
Ticket Prices
Ticket prices vary in accordance with the type of meeting as follows:
Regular Meeting: Adult €15, OAP / Student €10, Children under the age of 12 are free
Festival Meeting: Adult €30, OAP / Student €20, Children under the age of 12 are free
The Course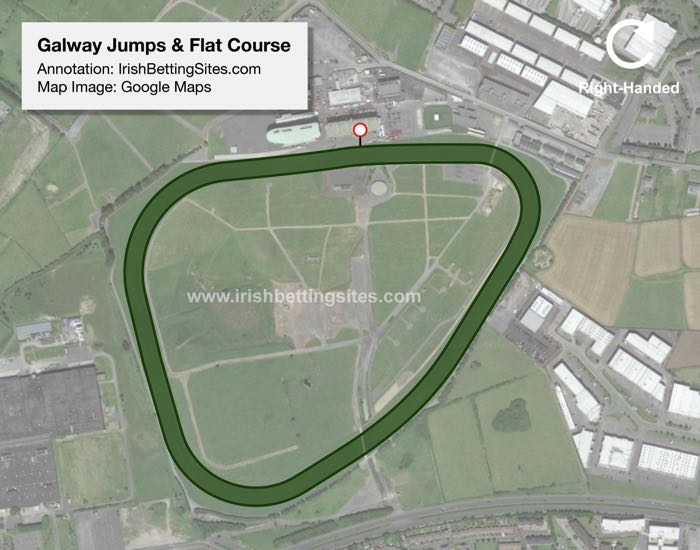 Galway is a mixed card course but whether it's flat or National Hunt racing, horses are in for a real test of their abilities. The right handed, 10 furlong circuit is incredibly sharp in nature with runners almost always on the turn and facing a famously steep incline to the finish. You won't find a tougher finish in the whole country so a degree of stamina is a must, especially on soft going, for any horse aiming to win here. With soft going far from uncommon in the West of Ireland, you certainly want to think about a horse who can go the distance here.
The steeplechase track features seven fences to a circuit with two of those placed very close together before the turn into the straight. It's this tightly packed duo of obstacles that have produced some of the most iconic tumbles in the track's history down the years.
These jumps are followed by a testing run-in of some two and a half furlongs up the hill to the finish. The hurdle course is laid out inside the chase course and is even sharper in nature than its chasing counterpart due to the tighter turns.
Galway is such a quirky track it tends to produce course specialists who will come back and run well at the famous festival and other races here year on year. It is also known for its damp conditions and bottomless ground and there are not too many days racing that go by at Galway without a drop of rain falling. This only serves to enhance the aura and reputation of the track, however, and it is most definitely a must-visit destination for racing fans.
EYE UP COURSE FORM
Galway has long held a reputation for being a producer of course specialists and there's certainly plenty of truth in it. Horses with stamina that can turn well and prefer to ride prominently fare consistently better than their rivals. The last point is arguably most important at Galway as, due to the sharp nature of the course, runners stick tight to the rail. As a result, when horses towards the front begin to weaken, they can end up getting in the way of those further back, often slowing them down.
Although Galway is also a course which consistently hosts well-attended races, you've still got horses like Ansar winning six out of 10 starts and Rebel Fitz securing glory in four of six. Across the flat, One Cool Poet won three races in a row at Galway in 2019, beating a combined 45 runners in the process. Senators Alibi can't boast a perfect record but he did manage to make the frame on 12 of 21 occasions, turning him into a highly profitable each way selection.
It's important not just to look at horses with form here but jockeys too as Galway offers a test not suited to every rider. Mick Kinane is one of the best the course has seen for flat races, winning an outstanding 26% of his visits here.
Donnacha O'Brien could well better that if continuing to show improvements, as of September 2019 he posted an overall strike rate of 24%. For National Hunt races, Ruby Walsh won far more than most, claiming 93 victories across 442 races and he only seemed to get better with age, winning 29% of the time in his final five years.
Major Meetings at Galway
As previously stated the 7 day meeting in July / August is one of the most famous meetings in Irish racing from both a racing and social point of view. The highlight of that being the Galway Plate and the Tote Galway Handicap. There is also a three day meeting in September and a two day meeting in October bringing the total tally of race days to 12.
Dining and Hospitality
Playing up to its famed social aspect, Galway is packed full of bars and restaurants that are available to all patrons of the course. These include:
Champagne Tent
The Carvery Restaurant
Racers Fast Food Restaurant
The Budweiser Tent
The Mayor's Garden area
The Guinness Village
This does not include the other many amenities available inside both the Killanin and Millenium stands on the track.