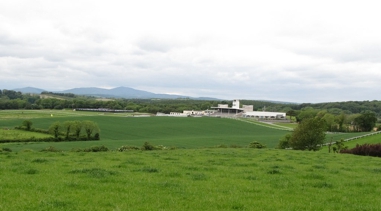 Downpatrick Racecourse is the second of the two courses situated in County Down in Northern Ireland and has two big claims to fame as a racecourse. Firstly, it is the oldest course on the island of Ireland with its origins dating back to the first meeting held here in 1685. Secondly, Byerley Turk, one of the three foundation stallions for the thoroughbred breed, is reported to have run at the course in 1690.
The current course is set just a couple miles down the road from this original site and is located just one mile from the historic centre of the town of Downpatrick, which contains various abbeys, castles, and cathedrals, dating from the Celtic period that attracts thousands of tourists each year – many of whom go on to attend one of the summer meetings.
In terms of getting to the track, Bus Eireann have a bus that runs from Dublin to Downpatrick, a train service also runs from Dublin to Belfast with the nearest stop to the track being Lisburn. The nearest airport to the track is Belfast International, which services the UK and mainland Europe.
Jump To: Tickets | Course | Meetings | Dining & Hospitality
Ticket Prices
General Admission prices for the course are as follows: Adults £10, OAP/Students £5, and Children under the age of 16 are free.
The Course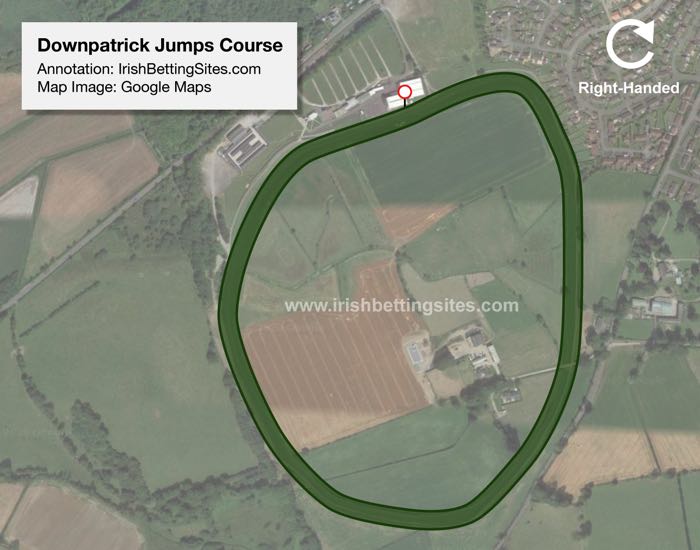 Downpatrick is an extremely unusual right handed track, which is about 11 furlongs in length, and very narrow all the way round. There are a significant number of turns and huge undulations throughout the circuit that make Downpatrick very much a horses for courses track. Previously a dual purpose course, Downpatrick put an end to its very limited flat racing offering in 2009.
There are six fences to a circuit of the course with the final two coming in quick succession down the side of the course before the home straight of just over a furlong. The fences themselves are among some of the easiest in the country but like the hurdles, do sit at an angle rather than being perfectly straight.
Riding a circuit of the course can feel like going through a series of hills and valleys with the descent just after the winning post probably the steepest you will see at any track in the world. Proven form here is valuable, with a decent record at other hilly courses, such as Hexham or Towcester, worth including in your calculations.
It is imperative that a horse has buckets of stamina to see out the trip here and the handier it likes to be ridden the better. That said, horses can come from off the pace in certain races during the stiff last furlong and a half. It's a tricky task in better attended races though, as the narrowness of the track can limit clear opportunities for overtaking.
LOOK OUT FOR COURSE FORM
As mentioned above, the unique test Downpatrick offers is something that plays into the hands of some hoses but not others. There's no horse that's secured enough success at Downpatrick that they can be thought of as a legend of the course but it's not at all uncommon to see small undefeated streaks made here.
Horses like Poormans Hill and Corbett made it three out of three for Gordon Elliot while Wicket Keeper and Killiney Court only tasted defeat once across four starts. As of September 2019, nobody has won here more times than Andrea Cova with the mare winning four of her starts and managing to place in the other four.
Major Meetings at Downpatrick
Downpatrick has 9 meetings each year between March to October with the highlight being the Ulster National, which is recognised as a trial race for the Irish Grand National. Ladies day in August is the other major day on the Downpatrick calendar.
Dining and Hospitality
Downpatrick offers a number of suites and private rooms which are available each race day, including:
Function Suite: This space can have up to 400 people for business or whatever event you're hoping to throw. More details about this suite and pricing (which varies) is available on the course website.
Corporate Boxes: These are available for hire from £40 per person with a minimum of 12 persons. These boxes accommodate 12 to 20 people with first class views of the races. Corporate Boxes also come with access to a bar, food, and waiter facilities. Food is not included in price, but there are plenty of menu options available on request, which can be tailored.
Corporate Hospitality Packages: These start from £40 per person and include entry to the races, lunch, access to betting stands, a free racing card, a racing expert to give you help, a pay bar all to yourself, and even some live music for after the races.
For all patrons the course has a number of bars and restaurants which provide both take-away and sit down menus, alongside refreshments and sweets, and, of course, tea and coffee.