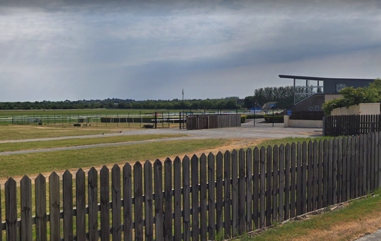 Formerly known as Limerick Junction Racecourse up until about 1986, racing has been a key event in Tipperary since 1916. A picturesque and scenic course, which often features a local farmer working the centre of the track during racing, it is the epitome of summer racing in Ireland.
The track is dual purpose and is the closest racetrack to the famous Ballydoyle training facility, operated by Aiden O'Brien. As a result, many famous horses have won races here at Tipperary, including Dylan Thomas and Hawk Wing just to name a couple.
It is extremely easy to get to Tipperary Racecourse, seeing as how the track itself is located opposite the railway station, Limerick Junction, and is only a five-minute walk for patrons. If you're flying into the country, Shannon will be your nearest International airport, which is an approximate fifty minute drive. There are also plenty of bus services and taxis that service the racecourse.
Jump To: Tickets | Course | Meetings | Dining & Hospitality

Ticket Prices
General Admission tickets for the racecourse are €15 for adults, €10 for the concessionary rate, including OAPs and students, and if you have children under the age of 14, they are free.
The Course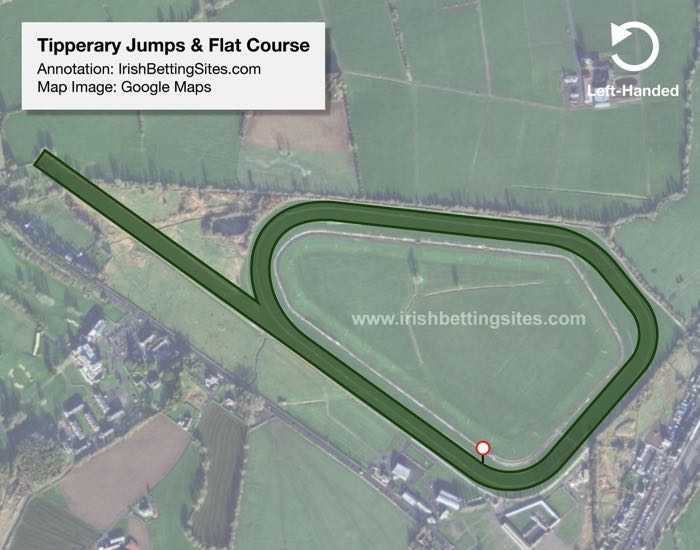 A left handed, mostly flat, galloping track, Tipperary is oval in shape. It may be a long, long way to Tipperary but it isn't a long way round the course, which measures just over nine furlongs. The bends here are very sharp and tight and while horses do come from off the pace, if a prominently ridden horse can get the fractions right, they can be hard to peg back, having the shortest way round and the clearest run at the tricky turns.
The chase course is set out on the inner of the hurdle course and is therefore even sharper and it features six fences. There's one down the side, three down the back, and two in the two and a half furlong home straight with a run for home of just over a furlong.
It is very similar to Cork in nature in that horses who have slightly suspect jumping but plenty of speed tend to go well here. While pace is undoubtedly an important quality, when the rain does come here it can get very testing very quickly, suddenly placing a greater emphasis on stamina.
As during National Hunt contests, races at Tipperary are usually run at a fast pace. Five furlong sprints tend to be particularly rapid and over this distance, there's probably no place quicker in the country. In part it's because minimum distance events take place in a straight line, something made possible thanks to the small chute that extends out from the start of the home straight.
BETTER GROUND FOUND OUT WIDE
When the going is yielding to soft or worse at Tipperary, it benefits horses handed a high draw. The ground towards the stands' side holds up better than it does by the inside rail and these faster conditions can have a real impact on how races pan out.
In five furlong tests, the further out you are the better as with no turning to do, high drawn horses are free to take full advantage of the better ground. It's no surprise when looking at 5f handicaps that stalls 16, 17 and 18 have the highest strike rates as a result.
Seven furlong starts don't take place on a straight course but nevertheless you don't really want to be on the inside when the going is soft. Horses out wide may have more distance to run around the bend but they approach the home straight enjoying the aforementioned better ground. The time lost around the turn is fully compensated by the advantageous conditions underfoot as those racing closer to the stands' side tend to win more often than not.
Major Meetings at Tipperary
Tipperary has a total of 11 fixtures between April and October. The highlight of these fixtures is the "Super Sunday" mixed card in October, which hosts a Grade 3 novice hurdle, a Grade 3 novice chase, the Grade 2 Tipperary Hurdle, and the Group 3 Concorde Stakes.
Dining & Hospitality
Tipperary has numerous amenities available to all patrons, including a self-service restaurant with a full (hot food) lunch and dinner menu on course. The Istabraq Bar serves bar food in addition to drinks, as well as our stalls and vending machines situated around the course.
The High Chapperal Room can be booked for events that have between 20 and 170 people with all-inclusive set packages available. It can cater for 170 buffet style and up to 130 silver service.