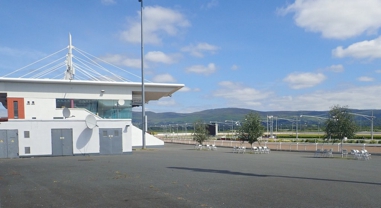 In 2007, Dundalk Stadium re-opened and became Ireland's first All-Weather Track with its wax coated polytrack surface allowing for winter flat racing on a sound surface for the first time in Ireland. It is also the only race course in Ireland with floodlights, which allows for its weekly Friday night meetings between October and mid March.
Situated just on the outskirts of Dundalk, Co. Louth, on the east coast of the country, it is one of the most easily accessible tracks in the country as it is just off the M1, which connects Dublin and Belfast. You can get either a bus or train directly from Dublin to Dundalk and their are transfers available from the centre of town to the stadium itself. If you are looking to see a unique style of racing that you will not see at any other track in Ireland given the surface, then this is the place to go.
Jump To: Tickets | Course | Meetings | Dining & Hospitality
Ticket Prices
Admission prices to Dundalk are as follows: Adults €15, OAPs / Students €10, and Children under the age of 14 are free.
The Course
Dundalk's left-handed all-weather oval course measures 10 furlongs in length and caters only to flat racing. A pair of straights around two and a half furlongs long connect to long sweeping bends on either side of the circuit. Adjoined to the final bend is a chute for five furlong races while there's also a small chute on the opposite site for one-mile starts.
Due to problems with congestion and subsequent complaints from trainers, a cutaway rail was introduced in 2013. The move turned out to be a stroke of genius as the track has ridden more evenly since, severely reducing the number of hard luck stories.
Improvements to the polytrack itself followed as during the 2014/15 season it was felt that the kickback was beginning to become unmanageable. Since remedying the issue in July 2015 with an extensive refurbishment, Dundalk has only increased its attractiveness to top trainers.
The other main feature of the Dundalk course is the greyhound racing track, which is also situated at the venue. There has been greyhound racing in Dundalk since the 1930s and the refurbishment of the stadium has boosted the popularity of the sport in the area.
HIGH DRAW NEVER OPTIMAL
The chute built to host five furlong starts doesn't prevent minimum distance sprints beginning immediately before a turn, something that you'd assume would produce a huge amount of inside draw bias.
Although not as strong as it could be, figures from five furlong contests show that there's a decent advantage handed towards low to mid drawn runners. Interestingly, the benefit of an inside draws only grows stronger when looking at six furlong races. At this distance, horses face two bends, rather than one, which would seem to be the obvious explanation for this. At one point, around half of the handicaps over this distance featuring at least 10 runners were won by the bottom third of the draw.
As strong as the six furlong bias is, it doesn't hold true over longer distance. Seven furlong events show virtually no sign of favouring certain stalls as those drawn outside have sufficient amount of time to nick a decent spot before making their way down the home bend.
For similar reasons, there's little in the way of strong bias for one mile contests although there are signs of low drawn horses holding a slight edge. Overall, it is minor enough for you to disregard it when placing your bets but ensure it's something you factor in for any sprints, particularly those taking place over six furlongs.
Major Meetings at Dundalk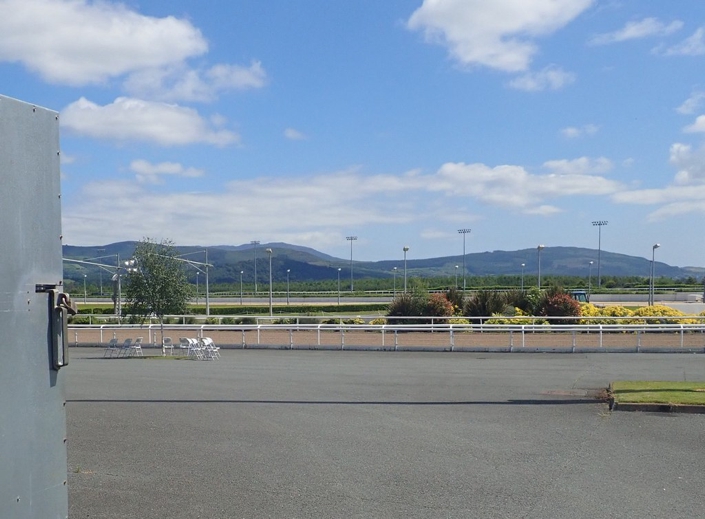 Dundalk is an exclusively flat track, which comes into its own during the dark Friday evenings throughout the winter when its meetings provide a great nights entertainment. The track hosts 37 meetings in total, including the 14 meeting "winter series", which insures a meeting every Friday night between October and March. The most notable race is the Group 3 Diomed Stakes, but it has become the track where many of the possible stars of Irish flat racing make their debuts.
Dining and Hospitality
Dundalk Stadium provides various hospitality packages, including their Restaurant Package, Bar Food Package, Hens and Stags Package, Private Suites, and even Conference Room Deals.
Aside from that, for the average patron, there are several bar facilities that provide food, as well as the stadium restaurant, which is available to all patrons and there are, of course, a great amount of fast food options on the track.