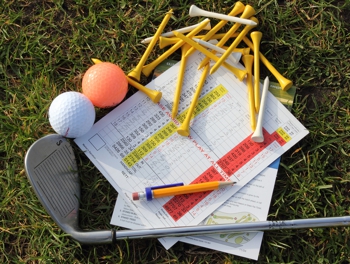 As the popularity of golf betting continues to grow, so do the number of markets that you can bet on. With each market there will be a certain set of rules set by the bookmaker, which you will need to be aware of. This article will highlight some of the more major rules and also allow you to see any issues that could arise with potential bets that you want to place.
The golf betting rules that are listed below will be an outline of what you can expect from the majority of major bookmakers within the industry. If you do require additional support or if there is something that we haven't covered, then we would recommend that you get in touch with your bookmaker so they can advise you with the problem that you are facing.
Dead Heat Rules
There will be quite a few times where dead heat rules will apply to golf bets, so we though it best to clear up what that actually means before moving forward.
A dead heat is where two or more players are tied for a certain position within that tournament. This can occur quite often in golf due to players shooting the same scores after 72 holes. If this happens the process is pretty simple; all you need to do is divide your stake by the number of players involved in the dead heat and then you will simply multiply this amount by your original odds to determine your winnings.
For example, let's say you place €10 on Rory McIlroy Each Way (€20 total as two separate bets) at odds of 10.00 with the bookmaker paying the top 5 places at ¼ odds. McIlroy ends up finishing in a tie for 5th with 4 other players. The firs thing to note is that the win part of the each way bet will be a loss. The second part of the place bet will win, but as more than one player is in 5th position, this means that Dead Heat Rules will apply.
So, you need to divide your original stake which was €10 by 4 players, giving you €2.50. This is now your new stake and this will be multiplied by ¼ of the original odds (10.00) giving you new odds of €2.50. Your overall winnings from this bet will then be €6.25 (2.50 x €2.50).
Outright Betting
When you are betting on the outright winner market, for the majority of tournaments if there is a tie for first place then they will hold a playoff. The winner of this market is then settled by the winner of the playoff. But, in rare circumstances, there might be no playoff, which means that Dead Heat rules will apply.
Each Way Betting
Each Way Betting will generally pay out the top 5 places at either ¼ or 1/5 of the original odds. Also, dead heat rules, as mentioned above, will apply to this betting market. It's worth noting that for the larger tournaments (majors, etc.) bookmakers will often increase the number of places that they pay for this bet.
Withdrawals
Quite often in golf you will find that players may withdraw over the course of the week – usually down to injury. If this happens, then your bet will stand providing that they have played 3 or more holes of the tournament.
Rule 4
Rule 4 is applicable in golf. For those of you who don't know what Rule 4 is – basically it allows the bookmaker to change the odds of players after a bet has already been placed. The most common circumstance for this to happen is when favourites for the event have withdrawn and bets have already been taken.
If Rule 4 does apply to an event then your bets will still stand, but the odds of the player that you initially took will likely be reduced. This is because the odds will need to reflect that a massive influence within that tournament has now been removed and the odds that you took originally will not reflect that. It's essentially in to protect bookmakers from having to settle bets on events that have been massively changed due to no fault of their own.
The amount that your bet will be reduced will depend on the original odds of the players that's been removed and then the odds that you took for your player. You can check the table below to find out how it will affect your bet.
[Insert Rule 4 table]
Group Betting
Group betting will pay out on bets for the player that has the lowest score at the end of a tournament. Should one of the players within the group not make the cut then this player will be eliminated from the bet. Should no players make the cut then the payer with the lowest score will win the bet.
Dead heat rules will apply to bets where two or more players are tied at the end of the tournament and Rule 4 rules will apply to bets groups that have had one or more players withdraw prior to the event.
To Make/Miss the Cut
When betting on this market it is important to remember that should a player withdraw or be disqualified after playing three or more holes before the cut has been made then this bet will still stand as a player missing the cut.
Round Abandoned or Postponed
If a round gets abandoned mid way through for whatever reason then all bets that haven't already been settled will be void and you will get your stake back. Should the round be temporarily postponed or suspended to be resumed at a later date (often next day) then scores will carry over and the round will play out as per usual with bets being settled in accordance to that markets rules.